YOU CAN TRUST EAGLE CROSSING SELF STORAGE!
Our Security Features Will Keep Your Belongings Safe
Contact Us Today!
At Eagle Crossing Self Storage in Windsor, CO, we're honored that you've chosen to trust us with the secure storage of your valuables and assets. As Windsor's self-storage experts, we have developed a strategy that ensures round-the-clock protection of personal goods, commercial equipment, furnishings, and everything in between. Our state-of-the-art security measures ensure that your belongings will remain safe from theft and damage.
Our Windsor Storage Facility Is Outfitted With:
High definition security cameras and surveillance equipment
Specialty lighting
Computer-controlled gate access
Professional security patrols
High-security cylinder locks for every unit
Our goal is to provide you with the peace of mind that only comes from knowing your stored items are tucked away safely and securely, protected from extreme weather, fire, flooding, vandalism, and theft.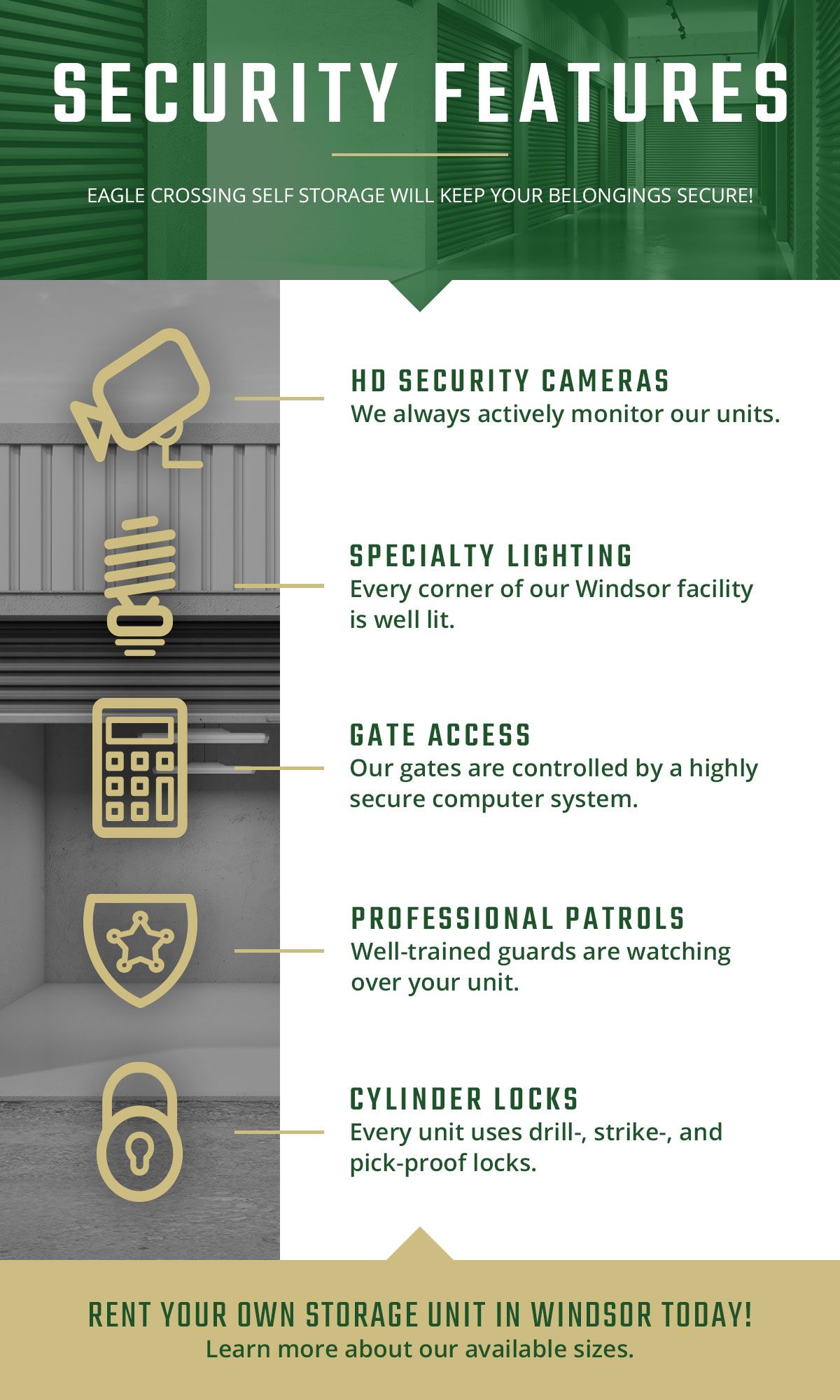 HD SECURITY CAMERAS
Thanks to our high definition security cameras, we'll always know what is happening in our Windsor, CO, storage facility. In the unlikely event of a theft or vandalism, our security footage will be able to help in any proceedings or insurance claims.
SPECIALTY LIGHTING
Our Windsor storage facility is equipped with high-quality lighting that ensures all areas are well lit at all times. This will help you to be able to see all of your belongings, no matter what time of day or night it is. Our lighting also helps to prevent theft as it aids in keeping would-be criminals away since there is no place to hide.
COMPUTER-CONTROLLED GATE ACCESS
With our computer-controlled gate, you can be sure that only authorized personnel are allowed within the facility. Our gate will not not let anyone in unless they are supposed to be there! We want you to be assured that you can always trust us, so we have invested in the best security measures available. You can always trust that Eagle Crossing Self Storage has your best interest in mind.
PROFESSIONAL SECURITY PATROLS
We take the security of your belongings seriously. We appreciate that you are trusting us with your treasured belongings, so we have professional security patrols that will always be keeping an eye on our Windsor, CO, storage facility. These guards will make sure everything is in order, and take care of any issues that may come up.
HIGH-SECURITY CYLINDER LOCKS
Cylinder locks are some of the most secure locks available, so we made sure that they are included in every Windsor, CO, storage unit. These locks are drill-, strike-, and pick-proof so you can have confidence that your belongings are always safe inside your unit.
Discover the benefits of choosing an experienced professional by reserving your self-storage unit in Windsor. Our approach to storage will exceed your expectations! Get in touch with us now to discover the right option for you. We offer a wide variety of sizes and options to accommodate all of your needs.